Working with Teams to Develop New Products
Getting a team to develop new products can be tough. Team members can be diverse in terms of their roles, skills, social background or deeply-entrenched cultural or organizational issues. However, collaboration between team members can highly affect the outcome or results of a project.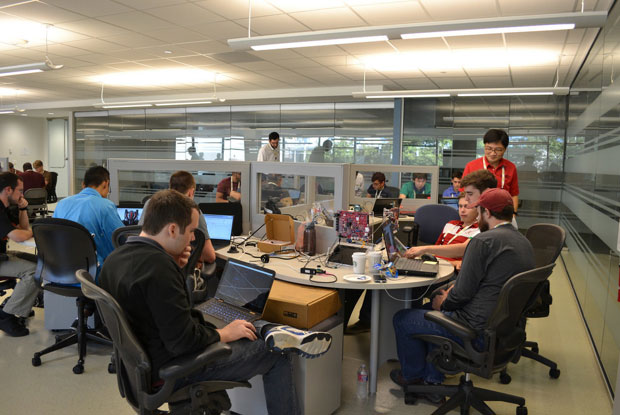 Obstacles aside, once a team is finalized an entrepreneur or team leader can look forward to product development. Product development often requires a lot of brainstorming and you are likely to work toward devising a strategy and making your product unique in the first phase. This brings us to the essentials you are likely to need to create a successful product.
1. Developing a Strategy
If you start to sail in the ocean without a map or compass you are likely to get lost soon. The same is the case with product development. In simple words, a strategy is an idea to achieve your future targets and goals. An effective strategy includes setting business priorities, planning growth and deciding the roadmap for your product. A strategy will outline what's important for your business in the future and what you must do to achieve it.
In order to devise a successful strategy, you can take various steps. The foremost step includes gathering the relevant facts about the industry you are working in. You need to identify your target market and the strengths and weaknesses of your product. A good plan will also include the threats that you will face in the future and ways to tackle them.
How about identifying the potential of increasing competition or countering market saturation by continuous value addition to your product? Developing an effective strategy is what most decision makers' look forward to before actually moving forward with product development.
2. Creating a Roadmap
Once a viable strategy is implemented, you have to come up with a roadmap to work toward the goals. Of course, you cannot achieve all your strategic targets at once. This requires a detailed roadmap that is likely to span weeks, months, or even years, depending on the decision maker.
When you have developed a great strategy for your product, but don't know how to move forward with it, don't worry. This is the problem your roadmap will solve.
Creating a roadmap also includes effectively communicating tasks to your team members. You can come up with tasks that your team members are likely to achieve in a given time period. But how will you make sure they are doing it the right way?
Make sure your roadmap is compelling and visually clear. This also includes identifying conflicting roles and resolving issues timely. A clear roadmap shall also be accompanied by strategic justification so members are aware of what they are working toward.
3. Guiding Clients through Requirements and User Experience
Leading and convincing your clients can be difficult, especially if you are working on a new product. Besides, you might already be facing competition from existing brands that can reduce the possibility of your future business growth.
Penetrating a market can be tough, but with proper analysis of your client requirements, you are likely to secure a substantial market share.
How about telling your potential clients why would they choose your product and how is it different from other brands working in the same industry? Perhaps, you might have an answer to that by looking at your strategic plans or roadmap. In addition, every user experience counts. Influencing a client with a better user experience can facilitate you future business dealings and might fetch you more customers in the long run.
4. Testing and Focus Group
For any business, testing and quality assurance of a product pave the way for future business growth. Imagine delivering your new product without proper testing and getting negative feedback from your clients.
The harm it will bring to your business can be long lasting and might turn away your potential customers. This can also lead to heavy spending on reactionary marketing activities for your business. Besides, proper testing of your new product ensures that it is in line with the requirements of your customers and you are likely not going to amend or change its features in future, which will save you considerable effort and time.
In contrast, focus groups are a part of market research and focus on the user reactions to new products or services. This type of research is usually accompanied by questions for the target audience.
A perfect focus group research involves selecting members that are likely to have an interest in the underlying business product. For any new product, focus group research can be effective as it provides understanding to team members on how to improve and add value to their goods or services.
5. Check in Early and Often To Ensure There Are No Misunderstandings
As a team leader, you might already have a strategy, a clear roadmap and may also have done testing and research on your product. But now comes the most important task, which includes regular follow-ups with your team members. Know that you only have one team that is likely to be diverse. There might be misunderstandings that can delay your product development.
To make sure your team members are all on the same page, you need to have regular feedback sessions. This includes interacting with team members and providing them with a solution when they seem to be stuck.
A good leader is one who can resolve the problems in a smooth and timely manner. Anyone can be a decision maker with regards to new product development. But putting things in perspective is what counts as a good quality of leader. Since you are developing a new product it is likely that your team members might be de-motivated with regards to the possibility of the product's feasibility, but you need to stand by them and address their misconceptions.
6. Smooth Production Deployment
As a team leader, you have mostly done your tasks to work with teams in order to develop new products. But you still need to make sure that your strategic plans and roadmaps are working toward smooth product deployment. Deployment of a new product can be critical and there is a major risk of failure.  You are not willing to take such risks.
In order to ease production deployment, make sure that your product is installed in batches. Of course, you are not going to start from scratch if your new product fails in its first run. Deploying in small batches makes sure that the team is moving forward slowly but gradually toward the completion of your product. You can also try automating your deployment process as much as possible to reduce the risk of human errors.
Final Thoughts
Working with teams to develop a new product might be difficult in the initial stage. But with a proper strategy, testing and smooth deployment you can achieve many favorable outcomes, leading to a great and long lasting startup.
As a bonus tip, make sure you always have a plan B in your strategy to look forward to in case things do not work out as expected according to your plan A. Additionally, effective marketing and using digital advertising can ensure you are heard by your target audience on the internet.

Vimware provides IT strategy and software development services in the Greater Los Angeles Area. We specialize in helping organizations transition and reinvent themselves into the tech world. Our clients are across many industries including academia, consumer goods, entertainment, and healthcare. Expertise covers iOS, Android, Windows, LAMP and MEAN technology stacks. Vimware is a Select Partner within Amazon's AWS partner network.