Since the beginning of 2018, phones and other mobile devices have not only become a lot cheaper, but have also become a lot more powerful.With devices like the iPad Pro that is capable of handling desktop applications, and the Galaxy Note 9 that is an absolute powerhouse of a phone, phones are the future and nowhere is this more apparent than AMPs.Now you may be wondering what an AMP is and how it works.  Read on
What is an AMP?
An AMP (Accelerated Mobile Page), as the name implies, is a page on a website that is programmed to work faster on a mobile device, like a smartphone. AMPs allow your website to function much faster on mobile devices, and allow for visitors to stay longer.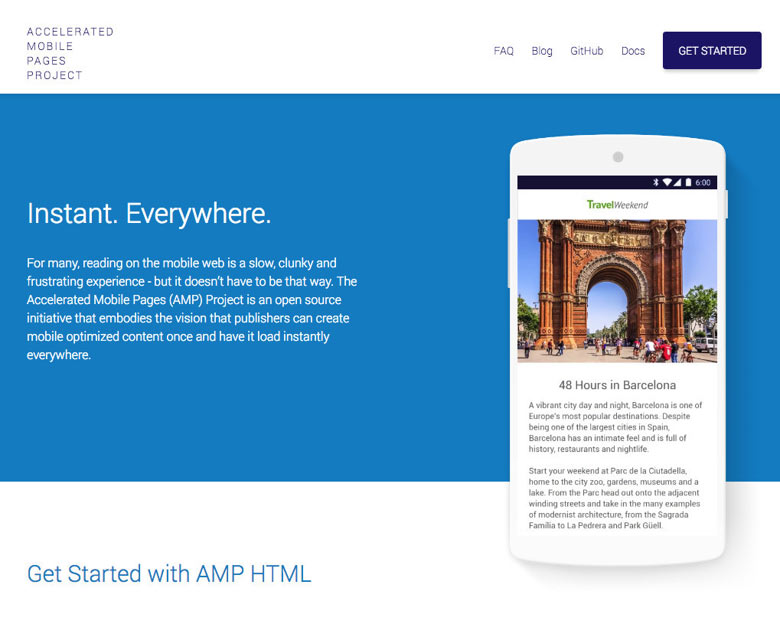 Although there is a massive difference between an ordinary webpage and an AMP in terms of speed, there is not much difference in terms of aesthetics. On the surface, there is no difference between an AMP and a standard web Page. This means that you are not compromising on style or aesthetics for the sake of speed or convenience. But does an AMP make that big of a difference? Yes it does, and here is how.
Search Engine Priorities
Other than merely convenience, AMPs affect how search engines discover and prioritize their content. Search engines, like Google and Bing, now no longer work solely on SEO and keywords; rather, they prioritize content depending on how optimized a specific webpage is.
Websites that do not have well optimized webpages run the risk of not making it to the top of a search engine's results. This is all the more concerning considering what an oversaturated market means if you are not at the top of SERPs; it means you will not get the attention of your consumers. Google is especially picky when it comes to its top search results.
Google has explicitly stated in various blogs and reports that their algorithm will give a higher priority to faster and well optimized webpages compared to ones that are not optimized. Moreover, since Google is by far the biggest search engine as of now, people do even consider using any other search engine. Google has such an influence over the current generation that people even refer to searching for something on the internet as "Googling" it.
Google has not made this change in its algorithm at a whim, as there is something that is clearly influencing this decision. So, is there something else that makes AMPs important? Yes, and it is the people themselves.
People and Time
With every passing generation, one thing in particular that has seen a notable decline is peoples' attention span. Patience and time is often a luxury that people in this generation cannot afford, which is why most people don't bother with websites and webpages that are incredibly slow and irresponsive.
Accordion to a report by BBC, the attention span of an average teenager is between 10 and 20 seconds. While it may not seem shockingly low, this attention span reduces even further when people are on the Internet. This means that websites have a very limited amount of time to captivate their audience, which makes the extra waiting time all the more detrimental to the overall user experience.
Due to peoples' shorter attention spans, an AMP is crucial to websites that will obviously be viewed on a mobile device.
How it will Affect Websites
Through both a technical and an aesthetical standpoint, AMPs have absolutely no drawbacks. This means that not only are these types of webpages incredibly fast and helpful, but they don't leave you or your viewers at a disadvantage.
If websites use AMPs, they will not only rank higher in most search engines, but they will also increase the chance of converting visitors to permanent members. As a website owner, your aim should be to provide information to visitors in a fast and visually pleasing manner; it is something that you can only do effectively with the help of an AMP.
Moreover, seeing how developing AMPs is not expensive, there is no reason to not add AMPs to your website. That being said, how hard is it to incorporate AMPs into a website?
AMP Pages: Implementation into your Website
One of the many reasons people have become vary of AMPs is because of the effort that will go into developing them. Seeing how most websites take a lot of time to create, starting from scratch to create a faster webpage may seem like a lot of effort for most websites.
That being said, while you do have the opportunity to create your webpage from scratch, you can simply convert your regular HTML page to an AMP, which is more convenient. Google has released various articles and reports to better help its community of creators in converting their webpages into AMPs.
Even if a third party developed your website or application, Google's AMP has access to various types of third party applications. This makes your transition from HTML to AMP HTML all the more seamless. On the other hand, you may also be concerned about how you can add AMP pages to your WordPress website.
Adding AMPs to your WordPress website is as simple as adding the AMP plugin for WordPress. This plugin will not only turn your standard HTML webpages to AMP HTML, but it will also show you how this website will look on mobile devices, which is great. You can also change the headers or the orientation of the page itself to your liking, at just a push of a button.
Conclusion
AMPs are possibly the most essential part of any website. It ensures that your website is functioning fast in order to keep most visitors coming back for more. Thanks to AMPs by Google, the only thing that is holding your website from reaching millions of people is your own content; so, step up your game by integrating AMP pages by Google into your websites.

Vimware is a Los Angeles based IT strategy and services firm that strives to be your most trusted technology resource. We work with you to understand your business demands and goals, then align them with the right technology strategy and solutions. We help you improve your digital footprint by carefully managing every detail throughout the Product Life Cycle.